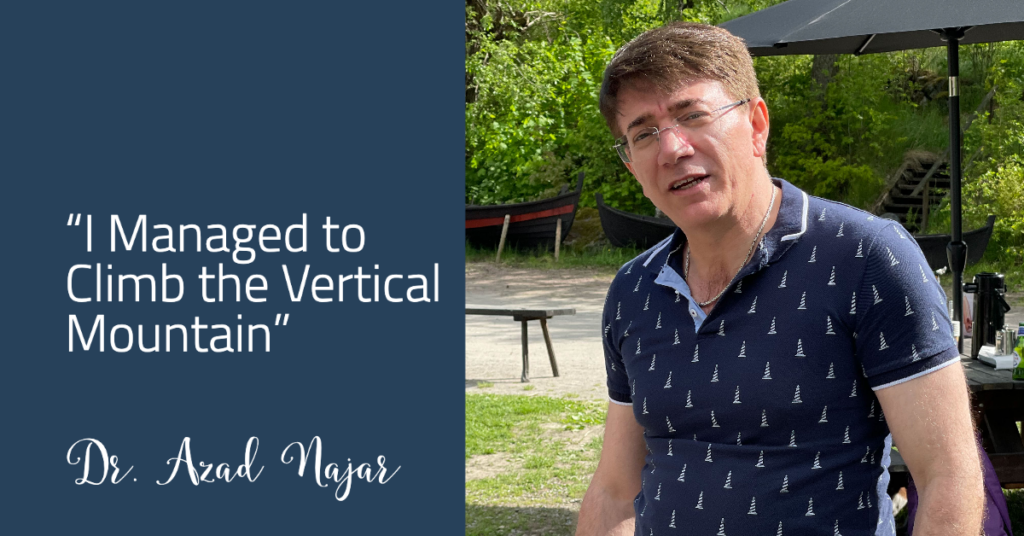 From Happy Childhood to Escape
The youngest of nine siblings, lively and resourceful with exceptional numerical memory, Azad's happy childhood in Zakho can be described. But then came the Kuwait War and all men over the age of 15 were to be hanged or shot. One night when the family hid from Saddam Hussein's forces, Azad decided that if they survived the night, they would leave the country. They survived. In 1995, Azad lands in Sweden and begins to learn the language and at the same time the process of transferring the medical education he completed in his home country Kurdistan begins.
Where Does Your Interest in Technology Come From?
As a child, I built my own toys and my interest in mechanics led me to eventually design several advanced devices, including a cinema projector. The price I had to pay was a lot of electric shocks. Then you could say that my curiosity turned into obsession. One of my cousins ​​was born with four different heart defects and the image of how he was always forced to sit next to when the rest of us kicked the ball, tired and with bluish lips, stuck very strongly in my memory, says Azad seriously.
This memory came to the surface again, when Azad in 1999, took a break from his Swedish studies and turned on the TV. The report that was shown was about SynCardia, an American company that developed an artificial heart to help heart failure patients. But Azad quickly realizes that – it's just a pump! Not at all like the human heart.
– This is where my curiosity turns to obsession and I make the first sketch of my own heart – one that will imitate the structure and function of the natural heart, says Azad.
Like a Vertical Mountain to Climb up
This is how a heart expert in Uppsala described the work that Azad was facing – impossible in other words. Luckily, not everyone saw the vertical mountain, Nyföretagarcentrum in Västerås seized on the idea and in the early 2000s the first static prototype was ready. Thanks to the commitment and collaboration with several prominent people who took the project under their wings. And this is where Azad realized that it might actually be possible to create the world's first artificial four-chamber heart.
The Brain Behind the Heart and the Ball is Rolling
– Yes, it is the front page headline in the media after many days of hard work to produce a prototype that actually pumped. This was 2003 and I had built the prototype of, among other things, surgical gloves and materials purchased at Panduro Hobby, laughs Azad. This is what got the ball rolling.
Azad runs on a hobby level for a few more years, at the same time as he advances to chief physician. His entire waking time is occupied with work aimed at helping people to survival and a good life. When the heart surgeon Ulf Kjellman and the technology company Digital Mechanics join, a clearer body is needed around the project. In 2007, Scandinavian Real Heart was founded by Azad and Said Zahrai. Shortly afterwards, Gunnar Nihlén also jumps on.
First Real Version and Bell Ringing
2014 is the year when the first real version is ready. In the same year, Realheart is listed on the Spotlight Stock Market. It is now that the world is waking up and the heart is evolving with increasingly advanced technical solutions. Implantation takes place on pigs, calves and sheep. Control systems and software are implemented and upgraded. The global network that now supports Realheart covers over ten countries.
By 2020, Arab reports will reach over 100 million of the world's 300 million Arabic-speaking people. Realheart and Azad Najar are on everyone's lips. From here, there are only opportunities for Realheart's strong team to continue testing, researching and developing the artificial heart on its way to the market and all people suffering from heart failure.