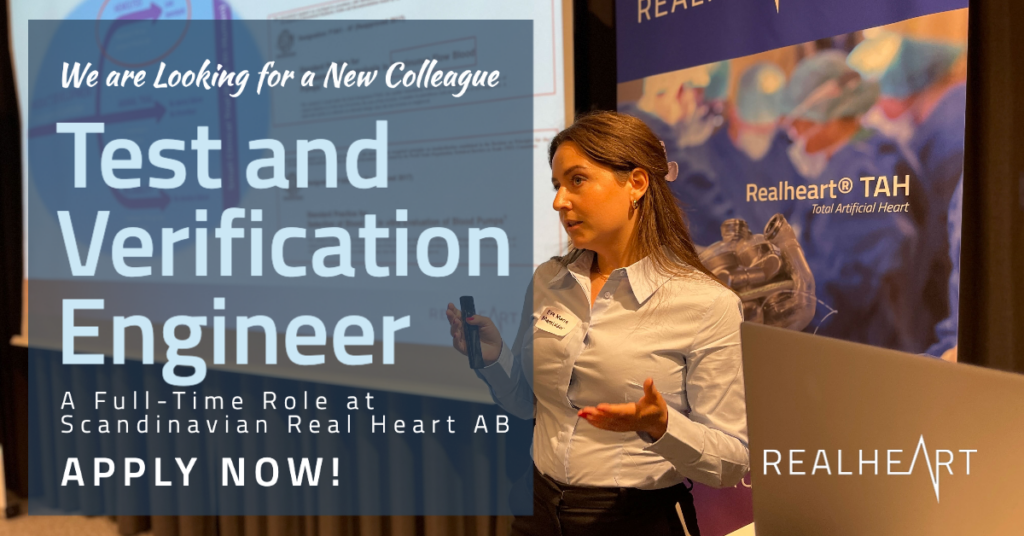 Scandinavian Real Heart AB (SRH) is developing a Total Artificial Heart (TAH) called the 'Realheart® TAH' that replaces the natural heart and is intended to save the lives of patients suffering late stage heart failure. SRH is based in Sweden and is publicly traded on the Swedish stock exchange.
SRH is looking for candidates motivated to progress the technology from the research stage to clinical use and commercialization. An opportunity exists for a test engineer professional to join the small and dynamic team to support systems testing activities including generation of documentation and reporting of tests to meet documented performance requirements.
The ideal candidate will have demonstrated experience with electro-mechanical equipment development in a regulated environment.
What we offer
Welcome to join our dynamic team where you will be working with an extraordinary product that can save peoples life. We have a flexible, innovative and technically advanced environment paired with a mutual drive to make a difference. It´s a full-time position with a wide variety of added employee benefits and a global working environment, giving you the opportunity to interact with highly skilled colleagues and partners from different countries.
Key Objective
To setup and conduct various tests of the electro-mechanical system. The role requires someone comfortable in a laboratory or workshop setting in a hands-on role to develop test methods and equipment and document tests, including performance and reliability testing, with guidance from more senior team members.
Responsibilities
Setup and conduct system testing such as reliability testing.
Develop test equipment and procedures.
Setup, calibrate, and control test equipment such as data acquisition systems, instrumentation and general laboratory equipment.
To generate reports and documentation in accordance with the company quality system.
Skills and Experience
Degree qualified in mechanical or biomedical engineering or equivalent.
Experience in a regulated environment such as medical device, defence, automotive or similar would be preferred.
Experience working with fluid mechanical equipment such as pumps.
Experience working with LabView or similar tools would be highly valued.
Some knowledge of reliability and statistics would be valued.
Demonstrated ability to work in a small, innovative team.
Excellent written communications skills, and analytical problem-solving skills.
To be part of the Real Heart team please submit your application to: careers@realheart.se
Scandinavian Real Heart AB
Organisation number: 556729-5588
Kopparbergsvägen 10, 722 13 Västerås, Sweden
+46 (0) 21 475 55 50
info@realheart.se
www.realheart.se